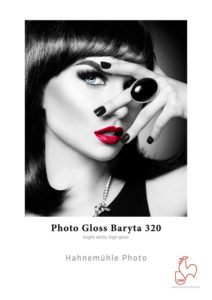 Hahnemühle Photo Gloss Baryta 320 paper, originally known as Gloss Baryta 320 from the Harman by Hahnemühle line, is now available with a new, improved coating in the Hahnemühle Photo line.
The bright white 100% α-cellulose paper is a true baryta paper with a particularly smooth, high-gloss surface. The improved coating formulation ensures a homogeneous surface and meets all requirements for an excellent print result with high density and wide color gamut.
We have also mounted the paper on our artibonds as a panorama. However, the reflection is already borderline with this surface depending on the installation location and lighting situation. As an alternative in such situations, we recommend
Hahnemühle Fine Art Baryta 325
or, even more,
Hahnemühle Fine Art Baryta Satin
.
Under "read more" you are live:
.